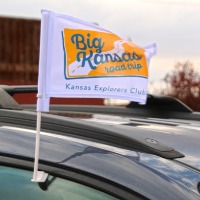 THE BKRT RETURNS MAY 6-9, 2021
NEWS RELEASE
April 13, 2021
TO: Statewide media
FROM: Marci Penner, Kansas Sampler Foundation, marci@kansassampler.org, 620.960.0552
PICTURES: For pictures, contact WenDee at wendee@kansassampler.org, 620.585.2374
The counties of Brown, Doniphan and Nemaha, in the most northeastern part of the state, will host the third annual Big Kansas Road Trip May 6-9.
A project of the Inman-based Kansas Sampler Foundation, the BKRT provides the public first-hand experiences in a format that feels like a tri-county open house. Each visitor creates their own plan of where and when to go to any particular place. Communities are asked to simply be good at being themselves and organizations, attractions, and businesses are invited to help the public get to know them through a variety of activities.
Postponed twice because of Covid, the BKRT will take place no matter what. Foundation director Marci Penner said, "People can choose activities that match up with their safety concerns. Some people might just travel the back roads and attend outdoor events. Those who have been vaccinated will be willing to take part more fully. Most restaurants will make carry-out available."
Activities range from sawmill demonstrations in Albany and Wathena to pie-on-the-porch in Highland at the home of Lanna French, 201 S. Prairie. The Peterson Brothers will give a concert in Sabetha Friday evening but at the same time the public is invited to the Centralia Lake for S'mores and Lemonade at sunset. New owners at Sycamore Springs have been working hard to have the former health resort open for tours. There will be events happening throughout the day in all three counties. The public has tough choices to make but there is something for everyone.
People can find current listings for events, attractions, shop stops, restaurants, lodging and other pertinent information at bigkansasroadtrip.com or they can pick up a 52-page guide at participating state visitor centers. The BKRT guide and a day program will be available in the counties during the event. Updated information and pictures are posted daily on the Big Kansas Road Trip Facebook page.
WenDee Rowe, assistant director of the Kansas Sampler Foundation, encourages people to take advantage of this opportunity to hang out in rural communities. She said, "You might have heard stories about the Davis Memorial in Hiawatha or the Shoe Tree near Wetmore but there is nothing like seeing these places in person. The BKRT is a good reason to come explore these counties May 6-9."